posted by:
EchoUser
1. How did you get into user experience design?
Let's start at the very beginning (a very good place to start) …I grew up in Bakersfield with two siblings and both of my parents being doctors. Our parents always told us just to figure out what we love to do and to pursue our passions – so of course, we all ended up in design. We were never pressured to go into medicine or in any direction we didn't want to, which I really admire. While my brother studied animation design and my sister studied fashion design, I completed the Lascano design trifecta and went to school for graphic design at the Art Institute of California in San Francisco, which brought me to the city.
My first job out of school was at AbsolutelyNew doing package design, which entailed making the boxes and doing the grunt work. Even though I wasn't fond of package design in school, I really came to enjoy developing the technical skills I learned there. I was then promoted to Package Designer and started creating the content and graphics on the packaging, which was really more my expertise. After AbsolutelyNew, I went to PlayStation, where I designed thumbnails, web banners, themes and wallpapers for the online store. One of my wallpapers is still online to download, which — I'm not gonna lie — is pretty cool. It's a Valentine's Day promo wallpaper from back in 2009 featuring a robot holding a bouquet of controllers (check out the below).
After that, I started at Yodlee as a Junior Visual Designer, which is where I was first introduced to UI design. I didn't even know that I could get into this scope of work because I was always under the impression that you couldn't design the user interface without having to code it.
2. You had a lot of varied experiences before coming to EchoUser. What sets this company apart from previous places you worked?
I always say this about Mick: if he has a superpower, it is the ability to see potential in people that no one else can see, not even the individual. He saw something in me that I didn't even know I had.
With Mick's help, I was able to unlearn working with fear. He taught me how to stop doubting myself while working through something. Here, everyone is supportive and encourages you to make mistakes because that's how you learn. Everyone learns alongside each other.
You also get your hands dirty and your feet wet right away. I was exposed to clients from the get-go and started learning right from the start. At other companies as an entry-level designer, you don't have this exposure to client interactions. It may sound scary, but it's an awesome way for people to learn.
You really have to try hard to have a bad time here. The people who work at EchoUser are incredible and have created a wonderful culture.
3. EchoUser itself is in the middle of a bit of design update, which you've been leading. How is it different designing for yourself, rather than for a customer?
The rebrand was brought up in a very unique, yet awesome way. It was a part of our "Awesome Sauce Project" initiative, which asked each team member to propose something that could help EchoUser grow.
My suggestion was a rebrand. We explored what a rebrand really meant and did a deep dive into EchoUser's brand and what we want our company to be. Garrett Godsey and I approached this in the same way we approach any project: by speaking to users. We interviewed every EchoUser employee to uncover what what we wanted the internal perception of EchoUser to be and what we want clients to see. It was very interesting and very indicative of the people who work here – everyone is savvy and forward-thinking. Ultimately, what we all have in common is that we all care a lot about EchoUser.
Using the UX process on ourselves has actually helped us improve what we do everyday. It changes how you think about things when you're on the other side. We came up with several iterations of what could represent EchoUser's brand, and once we decided on a few polished designs with Mick, we revealed these to the rest of the company for voting.
It was definitely emotional being on the other side of the whole process — but awesome how willing to help and excited people were. In the end it's brought us all a little closer.
4. If you could redesign any brand — past or present — what brand would you want to get your hands on?
There are a few brands that I would love to redesign – but more than any one brand is a specific type of logo that I see way too often – the "see-say" logo. This refers to a logo or brand where you can see exactly what they are trying to say.
Not to call out anyone specifically, but too many times the image and language on a logo leaves nothing to the imagination. Visually, they end up being so literal and hit people over the head with it. The problem being, more often than not, you still don't know what the company does. Sometimes brands evolve beyond, or are just bigger than, those overly simplistic logos, and it's frustrating that they aren't showing off their brand in the right way.
It's like when I see someone with a really great body, but they're wearing ill-fitting clothes. And as a visual designer, I'm like…IT DOESN'T HAVE TO BE THAT WAY! Find a designer who can help you!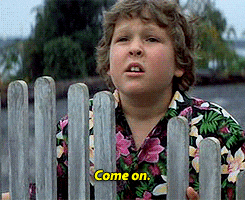 I think personal style is a way to give people a taste of your personality and it's an opportunity that is all too often overlooked and taken for granted. It's the same thing with branding. It's a missed opportunity if you don't utilize your chance to express your company. A logo is a half second chance to catch someone's eye. Your brand is your company's personal style and you want it to be something people can connect with.
5. You obviously love gifs. What fascinates you so much about them?
I really love gifs because they fit with my sense of humor and how I express myself. I'm a visual person, and this is a visual way to express emotion. I'm very animated and expressive when I talk, and gifs kind of allow me to write how I talk. For example, I often feel like this:
6. Any advice you'd like to share with new designers?
Be open to new experiences and don't be afraid to fail because that's where you learn the most. When you do fail (because you will!), you need to find a confidant. Someone you feel safe talking to and who can give you objective feedback. It's so crucial because you need others to help you learn and grow. You never want to feel like you're on your own, because that's not true.
Also, don't ever think you're above any kind of work because once you think you're too good for it, you cut yourself off from incredible experiences.
posted by:
EchoUser
Here at EchoUser, we have so many innovative minds that we were lucky enough to submit five ideas for next year's SXSW. Last week we heard from Aaron Rich, EchoUser's VP of operations and co-founder on UX as a buzzword, and now we dive a little deeper with Seiko Itakura and Yalu Ye on their submissions about wearable prototypes and timeless experiences, respectively. Both designers want to bring awareness to how we can design better, more productive experiences for people.
First up, a quick chat with Seiko.
With the popularity of wearables growing tremendously, but no clear path to what makes one good – it's time we discuss what the "wearable" experience really should be and to create the one that people will actually enjoy. As Seiko knows from past experience, it's not an easy task, which is why no one has found the special sauce yet. But, she also knows there are things designers could be doing to better reach users' goals – like prototyping.
Why is prototyping wearables so important?
Anytime a new category is developed, as we're seeing with wearables, almost without exception, the first iterations are going to fail. Until a design standard is created, companies are going to struggle. But, there is a path to quicker acceptance – that's where prototyping comes in. Really, prototyping should be an important element for all designs, but it's especially vital for wearables because the standard isn't there yet. Wearable as a category also intersects so many different industries – tech, fashion, fitness, productivity, security – that it's near impossible to get it right the first time. The usability and experience has to be just right.
By creating prototypes, designers are able to test designs on users multiple times before developing the final product, saving huge amounts of time and money instead of building a product only to realize it doesn't meet user expectations.
Why are you the right person to give this talk?
Over the past year, I spent a majority of my time interviewing a wide variety of wearable users to find out about their experiences with watches, glasses and fitness devices. I learned about the functions and features that people deemed most useful, and the things that didn't necessarily work for them. Through this process, I started to design my own wearable device and recognized the importance of testing all the different variables at hand. Not to toot my own horn, but I'm the go-to wearable expert around EchoUser and know I have the knowledge to help other companies uncover how to better design their wearables as well.
What is one the pitfalls you've seen with wearables?
While I think activity trackers are actually useful, I see a lot of problems with the design. From the research I conducted, I found that even if people loved their activity tracker, they eventually stopped wearing them – for the same reason they stopped using a regular pedometer to begin with. The initial idea of monitoring fitness and health sounds interesting but, when the data collection itself doesn't yield results, people get bored. Additionally, this specific type of wearable is most helpful if you keep it on 24 hours a day, but when it runs out of batteries, users take it off to charge and forget about it. I think there could be a better design for re-charging these, and prototyping could definitely have an impact here.
See Seiko's submission and VOTE here!
Next, Yalu talks to us about creating a timeless experience…
…and no, she's not talking about your wedding photos.
What she is talking about is designing experience of products and services that lasts more than a few months. We all know the initial excitement we can have around a new iPhone app, piece of software or new device, but most of them won't be top of mind in a year let alone five, ten or 20 years. It takes a special recipe to develop a true timeless experience. But, as Yalu points out, Just because it's hard, doesn't mean we shouldn't strive for it.
Why do we need to discuss "timeless experiences"?
In our "everyone has a smartphone" world, new products, services, and apps are being introduced daily, if not hourly. But, with all of these becoming outdated so quickly – how useful and meaningful can they really be? We need to stop thinking about what the cool thing now is, and start thinking about designing experiences that will last into the future and have sustaining impact.
For example – think about the telephone. While the form and mechanism have changed since it "launched" in 1876, the core experience of communicating with people remotely has outlasted time. My goal is to show how UX design can help create meaningful experiences that not only resonate with users now, but will outlast its founder too.
What's an example of a "timeless product" that didn't work?
While I think portable data storage devices (i.e. floppy disks, magnetic tapes, hard drives) seemed to be timeless at one point, they are starting to phase out with our technological advances. The core idea behind these devices is to store invisible data on visible, yet fragile, devices. Although very important devices in the past, they are not reliable enough to stand up against cloud storage. Think who want to carry multiple devices of data worrying about its damage, loss or heaviness? We are still looking for ways to store our invisible data, but the experience of storing it in different portable devices is or will be left behind time.
See Yalu's submission and VOTE here!
posted by:
Amelia Altavena
At EchoUser HQ this week, our office held a design jam of armageddon-sized proportions. Designers and researchers from EU, along with designers from Further, SpaceGAMBIT, and Premise, were given the following challenge:
"How do we distill dense and complex asteroid data into useful, interesting, compelling, and intelligible information for the general public?"
NASA Minor Planet Center's Jose Luis Galache, our representing scientist and astronomer, gave the designers background on the data available. Essentially, NASA has a ton of data (size! composition! orbit! etc!) on over 60,000 objects. Great…now what do we do with it?
After digesting both our morning coffee and the challenge, we broke out into 4 teams and spent 2 hours conceptualizing and brainstorming ideas on how we could potentially bring this complicated data to the general public. As a group of non-scientific designers and researchers, we started with what we normally do in such design quandaries: learning about the users. Luckily, we were our target users!
Here's what we came up with:
Team 1: (aste)Roid Rage!
This was my team! We focused on kids and the idea that we could trick them into learning about asteroids by turning the data into a super fun game. Our game (Asteroid Rage!) lets the user gain control of nearby asteroids (NEAs) using nukes, gyros, and white paint to attack friends. Users earn currency in the game by researching, observing, and analyzing much like an astronomer would. Currency can also be used to build asteroid defenses to protect your home base. Ideally the game would create a community of aspiring scientists and informed youngsters. Future versions would include mining, building custom asteroids, and the ability to launch asteroids at Minecraft environments.
Team 2: BadAsteroids
This team approached the challenge from a higher level by first identifying each type of persona that represented the array of users that make up "the public." Their three levels then informed the design of a basic platform where a user could drill into the information — and, at the very highest level, actually contribute information as well as develop apps that interact with the data in meaningful ways. Their solution engages everyone from the curious science student to the amateur astronomer.
Team 3: Hitchhiker's Guide to the Asteroid — The Winners!
During the initial briefing, JL brought up the fact that traffic on the Minor Planet Center's website always spikes whenever an asteroid makes the news — such as the one that blew up over Russia last year. Based on this nugget of insight, Team HGttA decided that the MPC's website could be enhanced with a more whimsical and innovative approach to the data. What if there was some sort of sidebar on the MPC's website that looked similar to the trip-planning widget used for sites like Kayak and Expedia? Essentially, a user can "book" a trip on a nearby asteroid (currently there are 5 upcoming "flights") to better understand things like its flight path and how many NEAs are around at any given time, connecting the user to the data in a very human way. This unconventional idea won, and it's no surprise given how cool it would be to allow a user to hitch a virtual ride around the solar system on a giant asteroid!
Team 4: Asteroid Runners
Also taking a page from the unconventional playbook, the Asteroid Runners proposed that the best way to get the public engaged with data is by pulling them out from behind their computers and onto the pavement. In this asteroid race, runners would be the asteroids with the goal to destroy Earth! Obstacles (Jupiter, the Asteroid Belt, etc.) would pop up over the course of this Ragnar Relay-style race. But alas, Earth is not totally doomed. There would be public participation as well for non-runners who, by answering trivia questions, could potentially save Earth from the asteroid-runners. The race would raise awareness as well as potentially raise funding for NEA research.
All in all, the jam was a success. The ideas were creative, inspiring, and definitely a springboard for integrating alternative ways of thinking into our upcoming Asteroid Hackathon event in October. For such a beastly problem as presenting a wealth of difficult data to the public, the jammers accomplished quite a bit in only 2 hours!
Can you spot our judge, Jose Luis?
Want even more? Along with our Asteroid Hackathon event in October, our very own Mick McGee and Amelia Altavena, submitted a SXSW talk to explore the topic even further and dive into the next generation of asteroids. SXSW serves as the perfect venue to replace the visions of blasting pixelated rocks in archaic video games with real ideas on how to use big data visualization and crowdsourcing to save the world from planet-destroying asteroids.
But – we can't get to Austin without your help. Vote for Mick and Amelia to give them a chance to discuss more at SXSW Interactive next year!